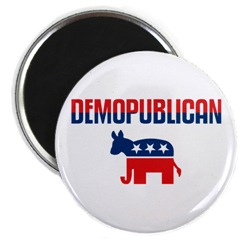 The administration has reached a deal with the House and the Senate to extend its domestic spying powers.  Something the administration insisted upon was language that forgave service providers for having betrayed their customers' trust by revealing what was thought to be privileged information without a warrant.  The administration argues that they need the power to catch terrorists.  However, the controls that are put in place, not only in law but in our Constitution are there to protect us, and not terrorists.  Richard Nixon was a big fan of domestic spying and famously abused the NSA's capabilities for his own political purposes.  We see today that corrupt governments all over the world abuse their positions.  By definition the power of a sovereign overwhelms individuals.  This was recognized as far back as the Magna Carta, but furthered through the writing of our own Constitution and Bill of Rights, which enumerated the power of government, and reserved all other powers to the States or the people.  Today's Supreme Court has nearly lost sight of that for fear that we might be attacked by terrorists.  There are worse things than being attacked by terrorists.  Kit Bond, a leading House Republican said last week, "When the government tells you to do something I think you all recognize that is something you need to do."  That is dictatorship, not democracy.
But it gets worse.  By forgiving the service providers, the Congress has said that it is okay to break the law if you're a big enough company with powerful enough lobbyist, so long as you do it with the blessing of the current government.  "We'll clean up your mess."  That says that laws only matter to individuals and organizations that cannot afford to pay.
Republican Congress passing the extension of such intrusive laws would have been expected, as President Bush pretty much had his way with them.  With the Democrats, the calculus is very different.  First, they do not want to be labeled soft on terrorism, for fear they'll alienate their right flank.  Furthermore, while the press is reporting that the Democrats don't want to make this a campaign issue, what they really don't want is for a President Obama to have to have to address the matter.  And so they've all but adopted the Republican position.
Not so nearly unrelated as you might think, Social Security is the 3rd rail of politics, and yet as everyone knows the fund will run out of money, and is desperate need of restructuring.  If the Republicans attempt to do it, they get beat over the head by folks such as the AARP and others for trying to remake it in a way they would like.  Just as it took Nixon to go to China, it will take the Democrats to restructure Social Security.  And yet they won't for fear of giving up one of the best potential campaign issues.  Thus nothing happens, no matter who is in office.
I expect principled leadership.  In both houses of Congress I see none. Government has to be about more than just the Abortion Battle and the Gulf War.  It has to be about understanding the liberties we Americans had (I really can't say "have") and protecting, or restoring, them.  The people who landed in Jamestown sought freedom from established orthodoxy.  Were they alive today they would turn over in their graves to see what we have recreated.
So, what is the difference between a Democrat and a Republican in reality?  Answer: not much.