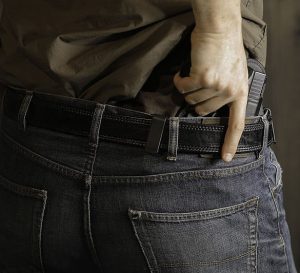 Many people have made the claim that they need to own guns to protect themselves, that they can't leave it to police to protect them, the enormous assumption being that a gun actually does offer some protection.  There are a number of scholarly works to test that assertion.
Summing up: studies thus far demonstrate that having a gun in the house increases the chances of someone in that house dying by firearm, it increases the risk of suicide, and it does not prevent a crime of passion, although it may deter a burglary.  More analysis is needed.  It is likely, for instance, that the type of gun matters.  A lot of studies are needed about open carry laws.  Still, if you think a gun offers you any sort of protection against others, consider the risks.
Image courtesy of aliengearholsters.com.