Everyone wants everyone to say something about what is happening in Israel and Gaza. Here in Switzerland the conversation since the attack has been All Israel All The Time.  Everyone around the world has an opinion, of course.  Here in Switzerland, the discussion is thoughtful.  You would not hear anyone defend Hamas' murderous actions.
It's one thing to have opinions; it's quite another to be grieving the loss of one's friends and/or family, and worrying about one's children who have been called up.  My employer's Israeli offices are somewhat emptier for that reason.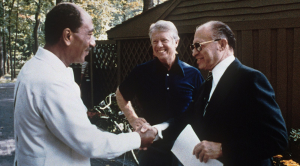 I look up at my office wall these days and see a response from President Ford's staff to a letter I wrote him in 1975 about Israel when I was a child. I remember writing him, suggesting that he throw both the Israeli and Palestinian leadership in a room and not let them out until they have a peace plan. Back then I knew I had the answers.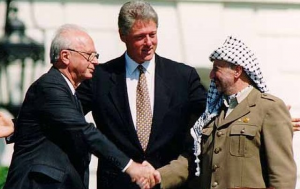 Over the years, there have been signs of hope. Seeing Sadat engage Israel, or the work that successive administrations undertook that led to the famous handshake you see here. Those days led to the hope that Israelis and Palestinians could live side by side.
Now I worry that this conflict will survive me and my generation, as it will have our parents.  I hope and pray that it does not outlive our children, and that they will be more imaginative than us.
You may have seen my #MusicMonday list.  Last week's contribution was Hatikva.  The Hope survived, even as many of the children in that video did not.  The hope of peace and prosperity must survive for all. My only plea is for all parties, Israelis and Palestinians in particular, to work to preserve that hope.