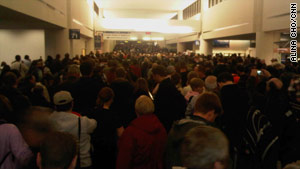 As you may already know, Newark Airport was in chaos on January 3rd due to a person walking through the exit of the so-called strerile area.  The incident occurred around 5:20pm, around the time that we were sitting down for a dinner snack inside.  Good thing.  We were not to eat on the plane, which was scheduled to leave at 6:50pm.  We boarded the plane, the door was closed but we didn't go anywhere.  After a time we were told of the breach.  I packed our stuff up.  Anyone who read the accidentally released TSA manual as I did would have known that this would happen once we learned that someone had gotten through.  Sure enough that's exactly what happened, which led to the scene depicted to the right, because everyone else was doing exactly the same thing.
This led to thousands of people being crammed into the outside normally insecure areas of Terminal C (I say "normally") because all passenger areas within the terminal were at this moment insecure), an event for which the airport is unprepared.  For one, there aren't so many bathrooms outside of security.  At Terminal C there are no restaurants.  Furthermore, it was difficult to move about.  Smart and lucky people might have made their way to the AirTrain and perhaps have gotten to Terminal A, where such conveniences could be found.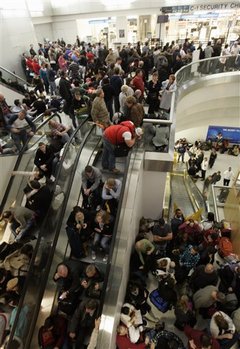 There were a lot of mistakes made, and many of them have been acknowledged.  However, the biggest one has not.  By evacuating the terminal in the way that they did, the TSA actually created a huge risk to many thousands of people by concentrating them in a small area.  Had a small group of bombers walked into that area, with backpacks, not only could they have killed many people, but they also could have done so and survived.  It would be the height of irony if the only portion of that terminal left intact was the secure part, while thousands were injured or worse.
They might even have been able to get away unscathed. Instead of avoiding the threat, the TSA magnified it by their actions.  Doing nothing would have been less risky.
"But," you say, "they had to reclear everyone, didn't they?"  My answer would be that it's a seemingly nice idea, but it may not be practical.  Here are some things the TSA could have done differently:
Use teams of people to clear people at their flights by their gates.  This is human intensive and not particularly easy, but it would have at least kept people from having to leave the secured area, and thus contributing to the risk.  The interesting thing is that the TSA had a whole lot of staff doing a whole lot of nothing while the passengers were exiting the sterile area.  And so they could have implemented this measure in some limited way for flights that were ready to go, where all passengers are accounted for.
Work with the airline to cancel flights.  Nobody thought to do this because apparently they didn't understand the threat.  In fact, Continental representatives contributed to the risk by encouraging people to wait and not rebook (more on this some other time).  Continental needed to position a lot of planes anyway in order to avoid utter chaos in the coming days.
Use other terminals and/or buses.  That is, get people to areas that haven't been compromised, and then move them to planes.  This requires a fair amount of coordination with both the airline and the port authority.  Those buses may not even exist at Newark.
But ultimately, there is no perfect answer to the question because each of these solutions costs money, and that requires that someone measure risk. The risk of letting one person through is at most one plane of several hundred people.  This is so because the cockpit doors are reinforced.  A terrorist might be able to get an explosive on board, but it would be unlikely that he could use it to direct a plane into a population center, which is what Newark Airport Terminal C's outer areas became.  And there is the risk equation.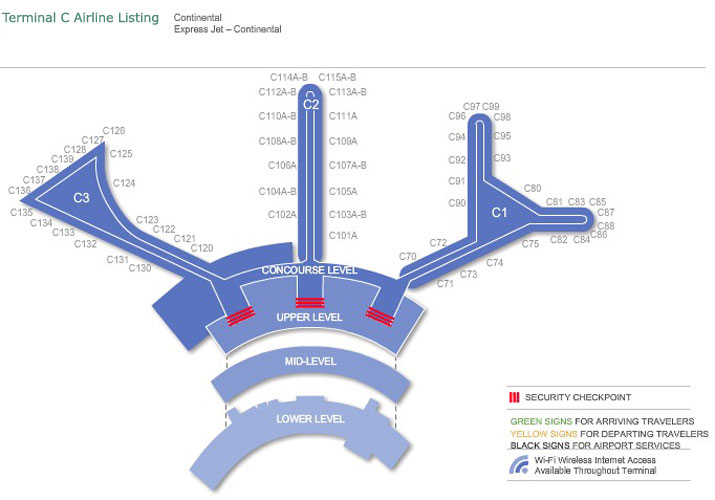 Now you may say that I contributed to the risk by not leaving the area.  True, I did.  Indefensible.  My wife and daughter should be quite upset with me, especially since I work in the business.  Now it's time for the TSA to own up.  Oh, and it's not just some local TSA guy who they can hoist this one on.  Once security was breached, the local teams followed procedures in the manual.