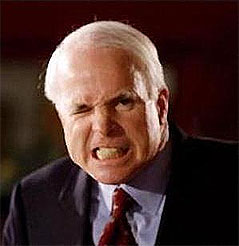 The rats are out of the ship, now that Senator McCain has lost.  Although they are on all sides of the spectrum, here is an article from CNN that demonstrates just how fast the Family Research Council has started complaining that moderates are to blame, and that Republicans should shift right.  While anyone's 20/20 hindsight is less than interesting, as we discussed prior to McCain's loss, his problem was that he tried to advance two separate strategies and alienated both of his bases.  John McCain did not simply run a moderate race.
Arguably, however, the reckoning will go the other way: President Bush's administration is about as unpopular AND as far to the right as one could possibly get in America, and John McCain could not run farther from it.  As proof, where was President Bush the last month of the campaign?  Answer: he was hiding, keeping a low profile, as we previously discussed.  Elizabeth Dole, a conservative, lost her seat in the Senate, and Virginia has gone blue.
The fight for the soul of the Republican party is on.  Whether they will remain right wing conservative will very much depend not only on how the electorate views the McCain loss, but how President Obama and the economy fares in the first two years.