And now for the new house.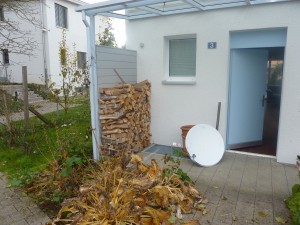 That's the front door with a stack of wood on the left.  Yes, we have a fireplace.  I'm not that much into wood fires, because they tend to add too many particulates into the air, but Christine likes a good fire.   I figure we'll have one or two per season, but we'll see.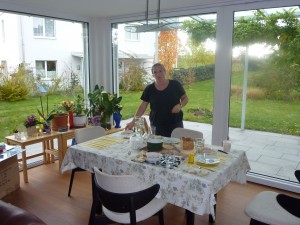 Here's Christine i the dining room (it's one large great room).  It's nice and sunny.  We're a bit close in to our neighbors, but as it happens, they all have kids the same age as ours, so we'll view this as a good thing.
We have a small yard with two gardens.  We'll probably reduce that down to one.  Yes, I've had to mow the lawn already.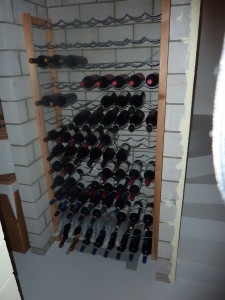 Yes, we were motivated to unpack the wine.  We were a bit crazy and actually had a holiday booked before we found this house.  So the order of execution was:
Pack nearly everything
Go on holiday for two weeks
Return on a Sunday morning
Finish packing
Close on the house on Monday
Move on Tuesday & Wednesday
Drink on Thursday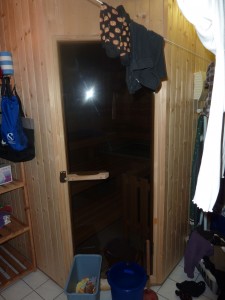 Amidst everything we have a sauna in the new place.  As it turns out, neither Christine or I like saunas, and so we have to decide what to do with this.  Suggestions welcome.
Oddly it's in the utility room, but you really don't notice that factoid from inside.  It does explain why the utility room has a shower.
One other little feature of this house that we DO like is that it has geothermal heating.  A pump takes water down and up a large pipe that was drilled deep into the ground.  No oil, and electricity and the fireplace as a backup.  That's pretty cool.
And so there you have it.  For now…