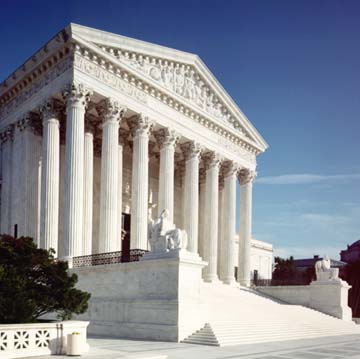 Most of the time when you see that headline the next comment talks about abortion or gun control or the death penalty.  But this Supreme Court seems to be after something far more dangerous: its own power.  It's an axiom in Washington that each branch of government vigorously protects its own constitutional turf.  Not necessarily so with some of the justices, however.
While this Court has at times shown great deference to the President, they have recently repeatedly slapped the administration for overreaching.  This past week the Court handed down two separate decisions, that said that the administration cannot hold someone indefinitely under its control – regardless of location – without a hearing before a judge.  In one case, Boudemiene v. Bush, the justices affirmed that the Writ of Habeus Corpus (sometimes called the Great Writ) applies to inmates at Guantanamo Bay in spite of the fact that Congress had specifically limited Habeus reviews in the Detainee Treatment Act of 2005.  Anthony Kennedy wrote for a bare majority of five justices that, "To hold that the political branches may switch the Constitution on or off at will would lead to a regime in which they, not this Court, say `what law is.'"  They arrived at this conclusion having determined that those acting on the color of authority of the United States are subject to the limits of the Constitution.  Doesn't this seem brilliantly obvious?
Our problems reside in what the other four justices were thinking.  Justice Roberts hides behind an abused procedure to keep these people prisoners, and then mischaracterizes Combatant Status Review Tribunals (CSRTs) as sufficing for purposes of Habeus review.  Sadly former participants of that review have said in open court precisely that it is inadequate.  We don't know because they're secret.
Justice Scalia went further, arguing the end of the world in the first section of his opinion, because, he argues, what the Court has done is to strip the government away from mechanisms necessary to protect the United States.  Like torture?  Holding someone indefinitely without any judicial review?  If Justice Scalia believes such a system would be to his liking, perhaps he would prefer to live in Zimbabwe where such thinking is enacted on a daily basis.  Of course he doesn't have to go anywhere near so far as the third consecutive decision of this Court to require reasonable review has of yet not caused a single prisoner to be released or even reviewed by a judge.
The Court for a long time has attempted to shy away from deciding laws on constitutional grounds.  Much better to use more limited methods of finding conflicting law or a narrow interpretation that squeezes through any bars put forth by the Writ.  Here, however, the situation was simple: the U.S. controlled the prisoners, and the prisoners were not given by any reasonable characterization a meaningful review.  The Court then gets to decide whether or not Habeus is to be enforced.  Four justices have chosen to ignore Marbury v. Madison in favor of expediency, or a doctrine of President as king.  Neither bodes well for separation of powers.